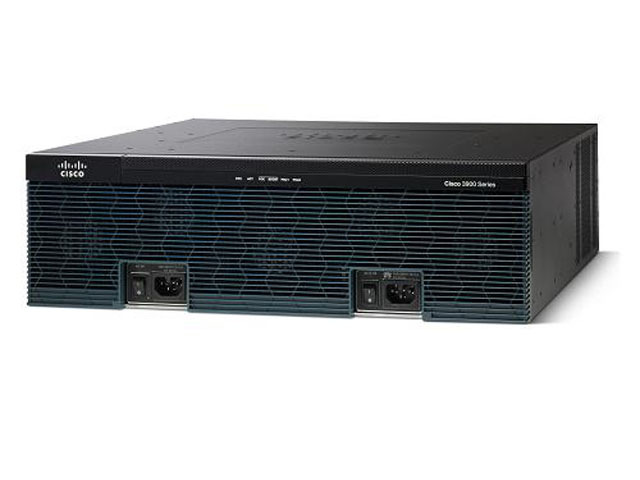 Маршрутизатор CISCO 3925E-SEC/K9
Парт-номер: CISCO3925E-SEC/K9
Маршрутизаторы Cisco 3900 серии обеспечивают значительные преимущества по сравнению с предыдущими поколениями по схожей цене - увеличение производительности безопасности и голосовых служб, опциональные встроенные сервисы, резкое увеличение производительности и плотности портов.


Аппаратные особенности

Размеры

133.35 x 438.15 x 476.25 мм 3RU

Вес

18.0 кг (без модулей) 27.2 кг (с)

Флеш-память

Внешняя съемная флеш-память формата Compact Flash

Объем флеш-памяти

Slot 1: 256 MB, Slot 2: 0 MB. Максимум 2 х 4 GB

DRAM

DDR2

Объем DRAM

1 GB/ 2 GB

Services Performance Engine (SPE)
200
SFP
2 (2 из 4 портов работают в комбо режиме)

Порты WAN или LAN 10/100/1000

4

Service Module slots
2
DSP (PVDM) slots
3
EHWIC slots
3
Cisco Unified Communications Manager Express Sessions
400 (нужно докупить DSP модули и лицензию)
Cisco Unified SRST Sessions
1350 (нужно докупить DSP модули и лицензию)
RPS поддержка (External)
Да
ISM slot
0

Порты LAN

Ставятся через EHWIC LAN модули

Для стойки
48.3 см в комплекте. 58.4 см опционально.

Порты USB

Два порта USB 2.0

Консольный порт

Скорость до 115.2 Кбит/с

AUX-порт

Скорость до 115.2 Кбит/с

Сетевая безопасность

Cisco IOS Firewall, Cisco IOS Zone-Based Firewall, Cisco IOS IPS, and Cisco IOS Content Filtering.

Аппаратное ускорение шифрвоания VPN туннелей.

Group Encrypted Transport VPN, Dynamic Multipoint VPN (DMVPN), Enhanced Easy VPN.

ААА и публичные ключи PKI.

3G - High-Speed Packet Access (HSPA) and Evolution Data Only/Evolution Data Optimized (EVDO).

IPSec и VPN

Аппаратная поддержка шифрования

DES, 3DES, AES 128, AES 192, AES 256 Включается с IPSec лицензией. Для России надо получить лицензию от ФСБ на 3DES и AES шифрование. По умолчанию работает DES.

Программная поддержка

Cisco Router and Security Device Manager (SDM)
Enhanced Setup
Поддержка CiscoWorks, CiscoWorks VPN/Security Management Solution (VMS), и Cisco IP Solution Center (ISC)
Cisco Configuration Engine
Cisco AutoInstall

Особенности маршрутизации

Протоколы

IPv4, IPv6, static routes, Open Shortest Path First (OSPF), Enhanced IGRP (EIGRP), Border Gateway Protocol (BGP), BGP Router Reflector, Intermediate System-to-Intermediate System (IS-IS), Multicast Internet Group Management Protocol (IGMPv3) Protocol Independent Multicast sparse mode (PIM SM), PIM Source Specific Multicast (SSM), Distance Vector Multicast Routing Protocol (DVMRP), IPSec, Generic Routing Encapsulation (GRE), Bi-Directional Forwarding Detection (BVD), IPv4-to-IPv6 Multicast, MPLS, L2TPv3, 802.1ag, 802.3ah, L2 and L3 VPN

Инкапсуляция

Ethernet, 802.1q VLAN, Point-to-Point Protocol (PPP), Multilink Point-to-Point Protocol (MLPPP), Frame Relay, Multilink Frame Relay (MLFR) (FR.15 and FR.16), High-Level Data Link Control (HDLC), Serial (RS-232, RS-449, X.21, V.35, and EIA-530), Point-to-Point Protocol over Ethernet (PPPoE), and ATM

Управление трафиком

QoS, Class-Based Weighted Fair Queuing (CBWFQ), Weighted Random Early Detection (WRED), Hierarchical QoS, Policy-Based Routing (PBR), Performance Routing (PfR), and Network-Based Advanced Routing (NBAR)

Особенности PoE

Поддержка PoE

Поддержка на портах коммутатора 10/100/1000 Ethernet с помощью опционального набора PoE

PoE ватт
520 (420 платформа)
PoE с PoE Boost
1040

Стандарты PoE

IEEE 802.3af, Cisco Prestandard PoE
Модульный маршрутизатор Cisco 3925/K9. Интерфейсы: 3 x 10/100/1000 Мбит/с, 1 x SFP, 1 x консольный порт, 1 x AUX-порт, 2 x USB 2.0. Слоты расширения: 4 x PVDM (DSP), 4 x EHWIC, 1xISM, 2xSM. Безопасность: межсетевой экран Cisco IOS, IPS. Поддержка PoE, мощность 370 Вт. IP Base. На замену 3800 серии. Без VPN.
Характеристики
Скорость портов: 10/100/1000 Mb/s